What We Do & Our Typical Daily Routine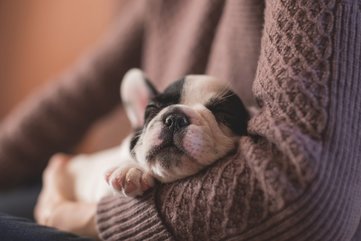 ​Our facility is great for dogs of all ages, from puppies to senior dogs as there are ramps at every entrance to accommodate. We only take in a certain number of dogs at any given time, our prices reflect the high level of care and attention your pup will be getting. We love taking in any size dogs; 5 acres of fenced property, a dog house connected from inside our home to directly outside with easy ramp access. That's right, while you're away on vacation your dogs won't be stuck in a kennel, they get to lounge in our home with a/c and or heat and depending on their socialization, can have doggy play time all the time with our two family members; check out
about us.
Your pup/s will be given special care to make sure they don't miss you too much. Every new client needs to fill out our
online survey
to make sure we can accommodate their needs.
Why choose Doggy Discovery Zone!?
Our home facility is very intimate and loving towards animals! Does your fur baby have high energy? Is he/she lonely or depressed? Do they have separation anxiety? Need special attention or some 'one on one' confidence building? Is your dog scared of water or other dogs? This is exactly what we look for in our clients! At Doggy Discovery Zone your pup will have the opportunity to socialize with our own trained dogs while supervised and be ultimately happy when you are away. Leave your worries at home because we will provide you with FREE photos during their stay. ALL furry clients get FREE unlimited
Doggy Cookies
during their stay and of course FREE clean up / bathing for any dogs who just couldn't say no to that really muddy spot!
Additional exercise times can be added for high energy dogs.
We have experience feeding kibble, a mixture of soft and wet food and raw meat diets. We know how difficult it can be to find a dog facility that uses natural treats and has fridge/freezer storage for your fur baby to eat right. If your loved one needs additional care such as application of creams, tick/flea medication or pills with their meals, this is no problem for us; leave your worries behind when you leave them at Doggy Discovery Zone!
---
Before You Arrive
Every new client will need to get in touch with us via email at mika@doggydiscoveryzone.com prior to their visitation, to make sure we can accommodate their every need! ALL dogs staying indoors need to be neutered and spayed, exceptions are considered on a case by case scenario for additional fees. No exceptions will be made with regards to valid vaccinations of kennel cough and rabies.

​We also take in dogs with behavioral issues, in heat, not spayed or not neutered BUT they would be isolated outdoors in their own 200sf pen with decking below in case they are also diggers, this service is only available Spring and Fall; although our dog house is insulated three times more than your average kennel we want to make sure all dogs are comfortable.
Doggy Discovery Zone
(519) 777-9004
Muirkirk, ON, N0L 1X0